喜歡用英語閱讀?請點擊上方的語言切換功能來更改您的語言。
Delayed payments are a big pain for businesses. This issue plagues 48% of all SMEs in Hong Kong and is a big worry for many companies. When left unchecked, delayed payments pile up, leading to financial uncertainties and cashflow crunches in the foreseeable future.
This potential hiccup can be better anticipated or even averted by having good business practices in place, such as by improving your payables, gaining better understanding of cash flow and maximising capital on-hand. An area that is often less prioritised however, is for businesses to improve their receivables. "How can I get my customers to pay me on time, or better still, on time regularly?"
CardUp's no-code solution lets you accept credit card payments with no hassle
Our platform helps businesses like yours collect digital payments more easily, with no hassle or operational setup in a smarter and much more seamless manner...
...with no hassle: Unlike other card-accepting and digital solutions, there is no need for your business to set up or integrate with any payment gateways or terminals. There is no tech knowledge or training required!
...and zero transaction fees: For a limited time only, enjoy 0% fees

on all payments collected by credit cards — this means it's completely free for you to get started!
This allows your business to start accepting credit card payments and for your customers to pay you via credit cards anytime, anywhere – improving cash flow.
Here's all you need to know.

How does it work?
CardUp allows your business to offer more convenient payment methods to your customers. There'll be no transaction fees or hassle on your part — with none of the complicated technical setups or operational disruptions.
Your clients will be able to make digital payments in one click to your business anytime, anywhere, either via their favourite credit cards.
What payment options am I offered?
Through CardUp's solutions, you'll be able to collect card payments from your customers through multiple features suitable for different use cases:
Payment Pages (Generic and Custom)
After setting up your account, you will automatically receive a custom-branded Payment Page automatically. This is a unique URL which you can share with your customers, where they can pay you digitally anytime, anywhere. Think of it as your very own e-commerce checkout page! You also have the option of fixing a fixed payment amount by setting up Custom Payment Pages.
Payment Requests
If you wish to collect a specific amount for an invoice from a specific customer, you can also send them a Payment Request via their preferred communication channel (SMS, email etc). By doing so, you'd be able to track each payment's status and see at a glance which payments have been made.
Xero Plugin
If you are currently using Xero, you may also connect our plugin to directly collect card payments from your Xero-issued invoices. Payment statuses are also automatically reconciled on both platforms, saving you precious time and ensuring 100% accuracy!


Customised API and integrations
If you have more specific needs, our solutions can also be customised to fit your existing payment flows and be integrated on your website, mobile app and more, giving you the automatic reconciliation and monitoring you deserve.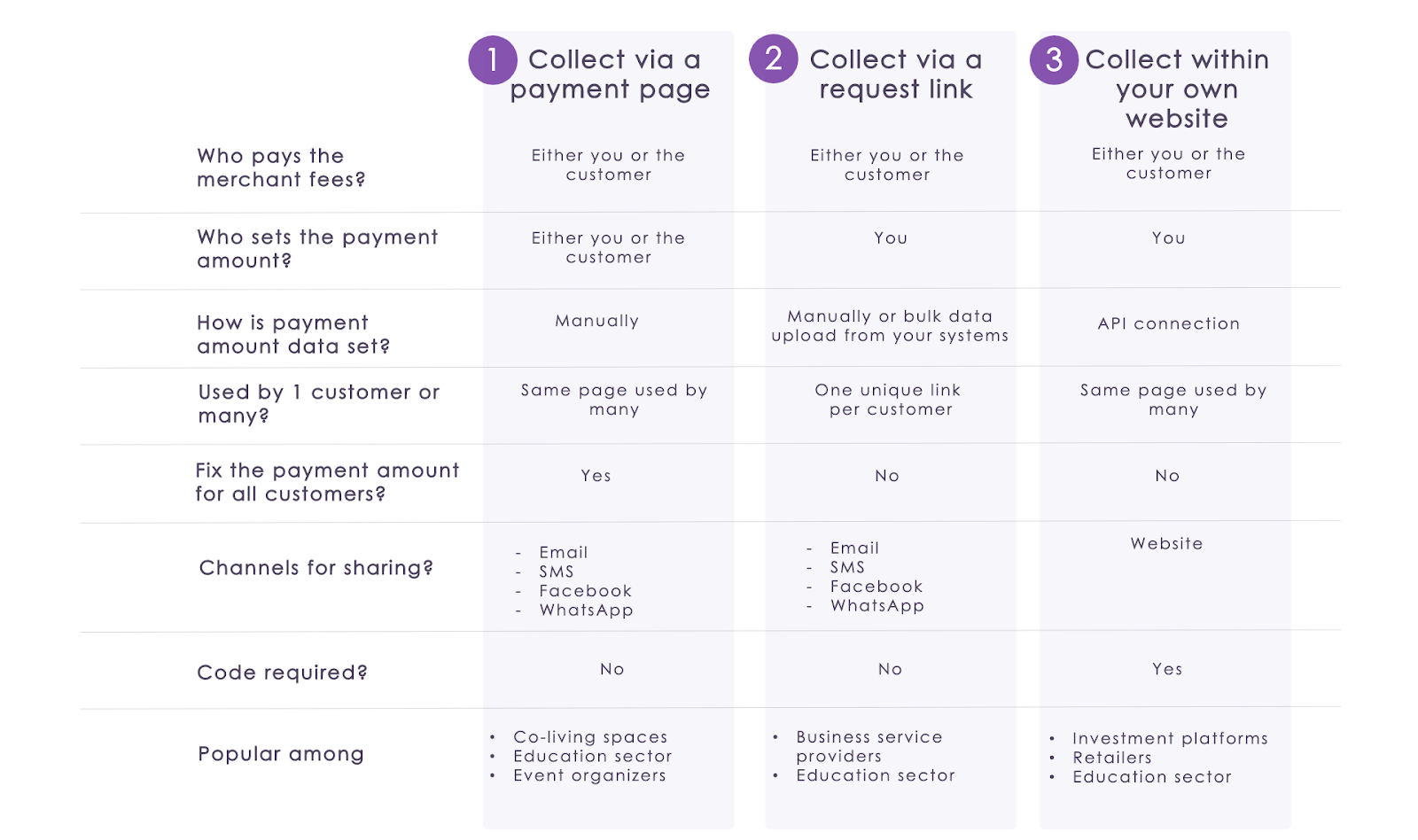 Benefits of using CardUp
Our platform simplifies your receivables process by allowing your customers to make credit card payments. This allows your business to:
Get paid faster
If your business accepts digital payments like credit cards through CardUp, all payments will get transferred to your account within a day. CardUp's no-code solution makes this process much faster than the traditional means of accepting payments. Unlike accepting card payments via point-of-sale terminals or payment gateway integrations, CardUp's no-code solution requires zero technical implementation.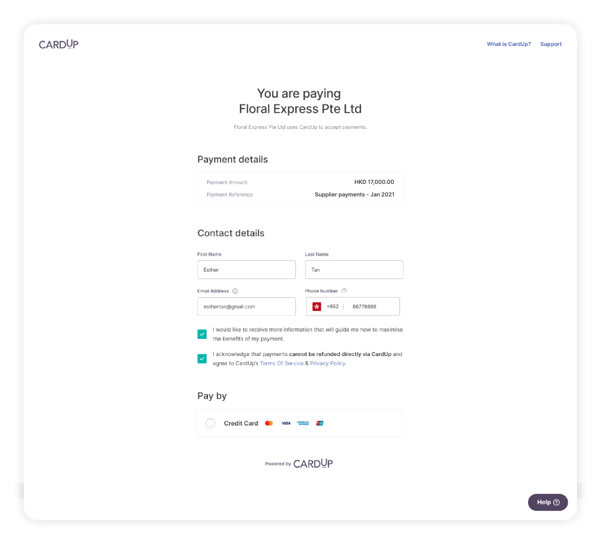 After setting up CardUp's platform to collect credit card payments, your business will get its own customised payment URL that can be shared with your customers through invoices, websites, or through your sales reps. When your customers visit this link, they can select to pay you via their credit cards, anytime, anywhere. By giving them a convenient way to pay, you will spend less manpower and resources chasing late and delayed payments.
Save 2 days each month on chasing payments
We know how much time it takes to manually process payments. With an option to collect digital payments, you can minimise the need to process cash or cheque payments. In addition to time costs, these manual payment methods also come with an inherent risk for human error.
When your customers instead use their credit cards, you will receive the payment directly into the bank account of your own choice within three business days. It's faster, safer and simpler!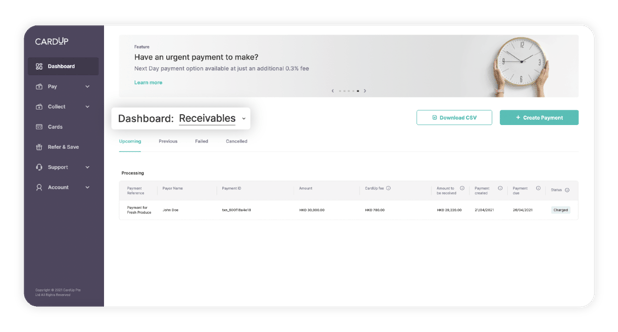 Offer customers their preferred payment method
Digital payment options provide your customers with even more reason to work with you. With the option of paying you through their preferred means, it'll make it easier and more likely for them to choose you over another business which introduces more friction through troublesome payment means.
For credit cards specifically, they are now able to tap on their credit card lines to pay you on time, while enjoying an interest-free period of up to 2 months before their credit card bill is due at the end of next month. On top of that, your customers can accrue miles, points and cashback from their payments to you on any Visa, Mastercard or UnionPay credit cards. This brings them additional savings and makes it rewarding for them to do business with you, along with the many other benefits of using a credit card that they can enjoy.
How do I get started?
If you haven't already noticed, setting up your company on CardUp is really easy! It takes less than 10 minutes to set up an account and requires no technical implementation, and you can be ready to go in just a day. Here's how it works:
Step 1: Sign up
Sign up for a CardUp business account by providing your email and password.

Step 2: Dashboard
Click on the 'Set up' button on your dashboard (under 'Start collecting payments')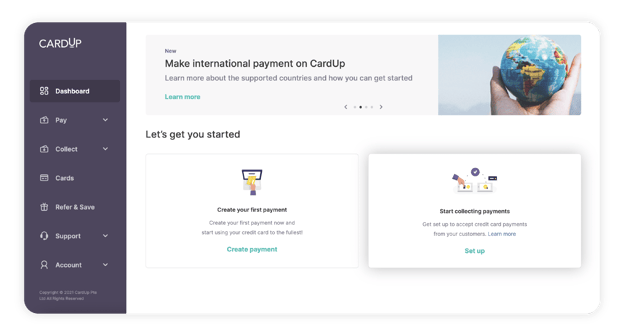 Step 3: Set up account
You'll land on a page that highlights the benefits of using CardUp Collect, along with the eligibility criteria for Collect. Click on the 'Setup now' button on this page (on the top right)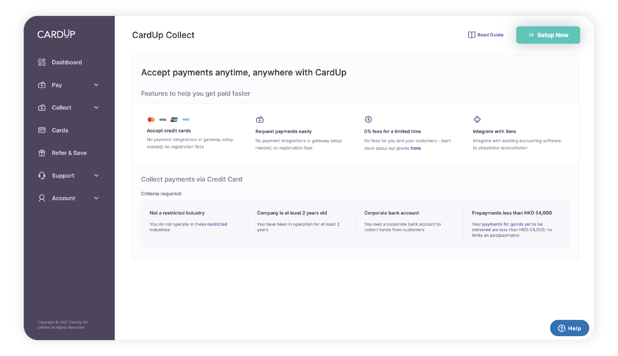 Step 4: Complete personal details
In order to comply with Hong Kong Monetary Authority, we'll need your personal details.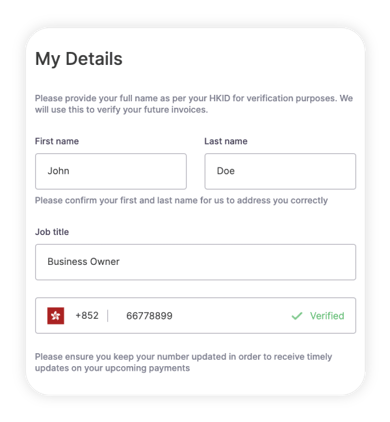 Step 5: Complete business profile
After providing your personal details, you'll need to provide your business details.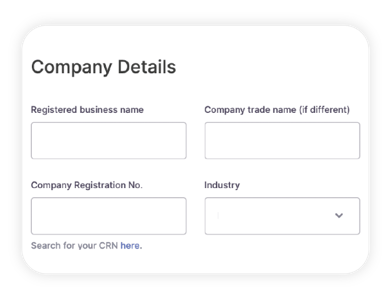 Step 6: Set up collection details
Once you've submitted your business details, you'll need to provide your bank account details and your bank statement. This is where you'll receive your payments. You'll also need to answer a few questions about the average amount you'll collect through CardUp.

Once you submit these details, you're done! CardUp team will review your details and get back to you within 1 business day if we need any additional information.
Once our team approves your Collect account, we will send you a personalised online payment link that you can share with your customers and clients to start collecting payments!

Where do I begin?
Sign up for your free CardUp for Business account in a few clicks here. Already an existing user? Log in to your account and request for access on your dashboard!